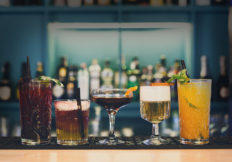 Are you looking for a new restaurant near East Peoria, IL to try? You simply won't find a place like Brasky's Bar & Grill every day. From our fresh ingredients, to our inspired preparation techniques, to our incredible specials, there's no place like Brasky's.
After all, we're not just a simple bar & grill. Because, over the years, we've perfected our menu and speciality offerings. And, we truly take pride in doing so. Our carefully-selected, highly-trained staff has been with us for years. We consider ourselves to be one big restaurant family! It's important to us that we cultivate a great, fun atmosphere, night after night, so that each of our patrons goes home happy.
Here at Brasky's Bar and Grill, we're 100% sure that you'll love our menu! We offer a little something for everyone: from our fresh green salads, to our delectable burgers, to our famed homemade onion rings, our menu is delicious, versatile, and full of flavor. And, don't forget: every night, we offer affordable food and drink specials, so be sure to check out our online menu & events calendar.
When it comes to local restaurants near East Peoria, IL, one thing's for sure; there's truly nowhere else like Brasky's Bar & Grill. Don't hesitate to get in touch with us today if you have questions or would like to make a reservation.
About East Peoria
The restaurant scene in East Peoria is booming, and Brasky's Bar and Grill is proud to be part of it. Home to nearly 24,000 residents, East Peoria itself is a quaint and charming city, situated on the banks of the Illinois River. There are several notable corporations and commercial enterprises that are currently headquartered here, and the city is also home to Illinois Central College. East Peoria is certainly an exciting, fun place to be!