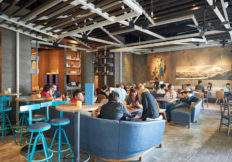 If you live in the Pekin, IL area and are looking try a new restaurant, it's high time you came to visit us at Brasky's Bar & Grill. In addition to our incredible food and drink offerings, we also have weekly exciting live events, shows, game nights, and karaoke parties! There's truly something for everyone at Brasky's.
It's simply not everyday that you'll find a place like Brasky's Bar & Grill. Our servers, chefs, and management team are deeply committed to the Brasky's mission. We want to consistently provide a great atmosphere and experience for our customers, no matter what.
At Brasky's Bar & Grill, we always want to ensure that you have a great time. After all, it's not every day that you get to enjoy a night out! We've carefully cultivated our menu over the years, and handpicked items that we truly believe everyone will enjoy. Some of our hometown favorites? Our freshly-made onion rings always keep customers coming back for more, our juicy burgers are known throughout the state, and our wings are cooked to perfection. We also have delicious cocktails, beer, and wine to accompany your meal — and, don't forget to ask your server about our specials! We offer nightly, cheap food and drink specials that you'll surely enjoy.
Here at Brasky's Bar & Grill, our mission is simple; we strive to create the perfect atmosphere for you and your loved ones. We're proud of our status as one of the top restaurants near Pekin, IL. But don't just rely on what we tell you – come see for yourself!
About Pekin
Located in Tazewell County, and situated on the picturesque Illinois River, Pekin is a charming and bustling hub that is home to nearly 35,000 residents. Pekin is also the site of various exciting festivals, including the well-known Marigold Festival. The restaurant and bar scene is booming here, and Brasky's Bar and Grill is proud to be part of it.